For professionals to connect, create and collaborate
Flexible Workspace
Whether you're working part-time or full-time, want to drop in occasionally or have your dedicated desks for your team, we have got you covered. As your team scales up or down, adapt your membership to what you need.
Community and Staff Support
We work to be the most diverse, inclusive and collaborative home for startups and entrepreneurs. Our staff and members create strong relationships to help you give and receive support, build a valuable network and generate business opportunities.
Facilities
Our Worknation space keeps you close to everything you need for work, relaxation and more. All essentials are covered – meeting and breakout spaces, high-speed internet, printing, a stocked kitchen, an in-house coffee shop and more.
Flexible workspace and growth support for your tech startup in a friendly community.
Nomad Visa
Best for Trial
One day pass including all amenities
Resident Visa
Best for Flexible Use
Flexible coworking seating with complimentary amenities
Digital Visa
Best for Virtual Support
Location-independent office, use as a virtual office, mail handling
Citizenship Visa
Best for Small Groups
A private office at Worknation space. Includes High-Speed Gigabit internet connection, power and unlimited tea and 20% discount on FLOC coffee.
What our customers are saying about us
Cool coworking space with wide opportunities for collaboration and growth. Active and innovative management with end to end support. Highly recommended.
Sohaib, Triverze Solutions​
The staff is polite and helpful, and the atmosphere is an apt mix of comfort and speed required for one to focus on their task. The setting is curated keeping in mind the ethics and boundaries one requires to maintain in the workplace. Would definitely recommend it.
Usman Shahid, Code I Technologies
A very friendly, neat and happening environment! Working with them is surely a decision I do not regret! They provide such a peaceful surrounding for co-workers with no parking problems. I'd highly recommend this place to everyone.
Saad Ajmal, Code I Technologies
It's such a joy to be able to step out of the classroom after work, and enter a space where I feel right at home.
Hamza Mehar, IdeaGest
Best place to work and enjoy , I suggest people to personally visit the office and share your own experience. Everyone should explore this office.
Usama Alvi, IdeaGest
Check out our event calendar to see what's on at Worknation space. Filter by public/ members-only events.
In our coffee hours series, we had a conversation with Raheel Bodla who is a Business Coach based in Silicon Valley with 20 years of work experience. He coaches and serves business owners to maximize their results.
We believe that life is an event that needs to be a memorable one. We run hundreds of local events a year both for our members and the wider startup and tech community.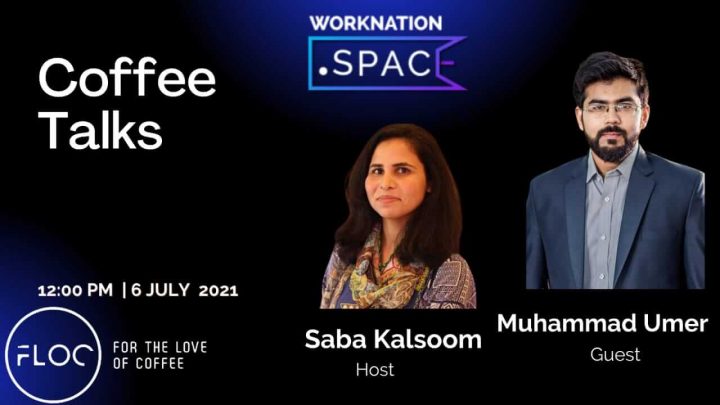 We have a series of coffee hours with mentors like Umer. He is a software engineer by profession, and a tech speaker as a hobbyist.